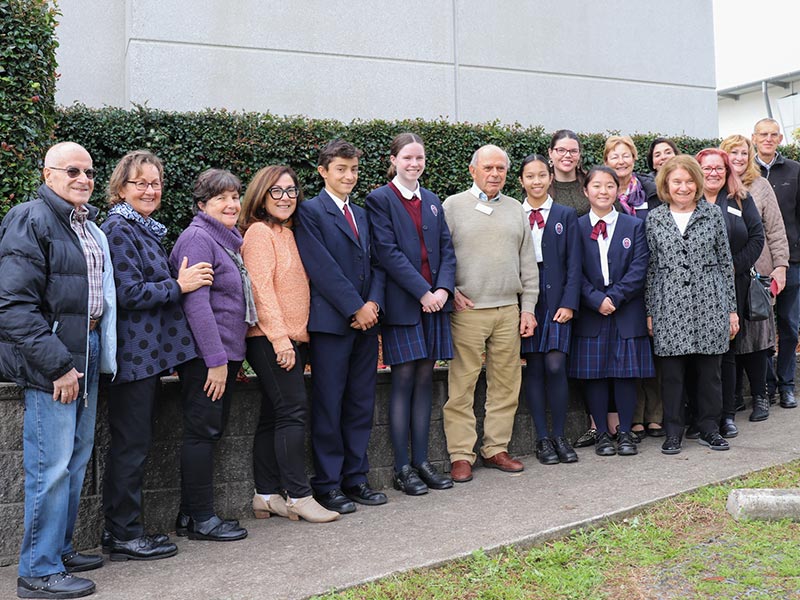 A memorial Garden dedicated to the memory of the 6 millions Jews who perished in the Holocaust was recently unveiled at Marian Catholic College Kenthurst. The garden, which features an olive tree and rosemary bushes symbolising peace and remembrance, was unveiled by Holocaust survivors Tom Fleming and Peter Gyenes along with volunteers from Courage to Care.
As part of their study of the Holocaust, Year 9 students have engaged in confronting research including through memoirs, artworks, photographs and video testimonies of those who perished during the Holocaust and those who survived.
Students also took part in workshops conducted by Courage to Care, an organisation specialising in Holocaust education aimed at promoting acceptance and education about the dangers of prejudice, racism and discrimination. It was here that they heard the moving stories from Holocaust survivors Tom Fleming and Peter Gyenes.
"This was an incredible opportunity for students as they are part of the last generation who is likely to hear these stories firsthand from the people who lived through it," said Year 9 HISE teacher Ms Belinda Judson. "Tom and Peter told students of how they were separated from family members, the horrific conditions they were faced with and how they finally came to freedom."
"Meeting these survivors and hearing their stories was a privilege and an incredibly humbling experience."
Compelled to act on what they had learned, the Year 9 students came up with the idea to create a memorial garden to serve as a place of commemoration and a reminder that they are called to be 'upstanders, not bystanders', to uphold the dignity of all and to promote the common good. Recognising traditional Jewish custom, they also decorated small stones and scattered them amongst the plants as an act of remembrance and respect for the deceased.
"The fact that these students developed such an understanding of Jewish history and culture and used stones to symbolise that Jewish people died during the Holocaust, moved me," said Barbara Hornung from Courage to Care.
Mimi Teeger from Courage to Care also said she was moved by the powerful learning, understanding and respect shown by the Marian College students.
"As a child of a survivor of Auschwitz Birkenau and Bergen Belsen, I was deeply touched and moved by the memorial garden that the students created," said Mimi. "To know that the memory of my people who were murdered during The Holocaust has been honoured in this way brought tears to my eyes."
---
Read more about Marian Catholic College Kenthurst