We'd like to acknowledge and congratulate a number of students who have represented the College at various sporting events this term and to those students who have been successful in their sporting fields outside of school.
HZSA JUNIOR FOOTBALL GRAND FINAL
Congratulations to the Junior Boys B Football team who won their HZSA Grand Final with a result of 2-0. The Junior Boys A team also made it to the Grand Final, but unfortunately lost 2-0. Well done to all the teams who represented our College with great attitude and skill.
HZSA TOUCH FOOTBALL GALA DAY
Our Year 7 Touch Football teams recently attended the HZSA Touch Football Gala Day. Both boys and girls teams had representation in the Grand Final with the boys winning 4-1 and the girls coming in second with a score of 2-1. A great day of Touch Football was had by our Year 7 students and it was a great start for them being involved in the competition to represent Marian.
NSWCCC TENNIS TOURNAMENT
On Monday 31 May, the boys and girls Tennis teams travelled out to Bathurst to compete in the NSWCCC Tennis Tournament. Both teams came up against some tough opposition, but more held their own in the chilly conditions. A great result from both teams with the boys finishing 6th, and the girls finishing 7th.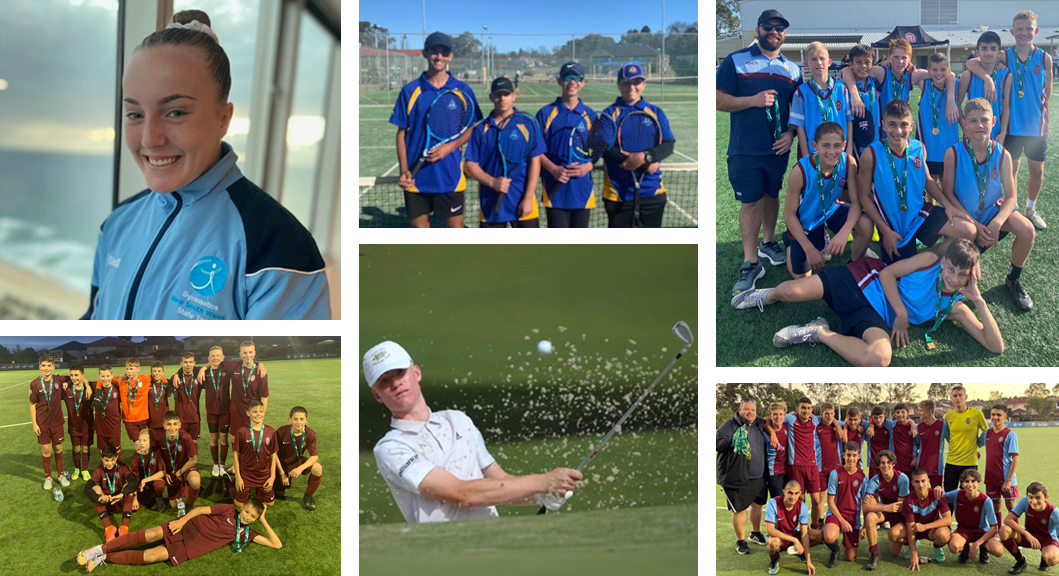 JASMYN ROBERTSON WINS GOLD AT THE NATIONAL GYMNASTICS CHAMPIONSHIPS
On Sunday 23 May, Jasmyn Roberston (Year 9) and team competed at the National Championships on the Gold Coast representing NSW in the Women's Artistic Gymnastics for Level 9. As a team the girls were successful in convincingly taking out first place and bringing home a gold medal. The hours of hard work, dedication and commitment have certainly paid off. Congratulations to Jasmyn, we are very proud of your efforts.
RYAN FLETCHER COMPETES IN NSW ALL SCHOOLS GOLF CHAMPIONSHIPS
Ryan Fletcher of Year 10 recently represented NSWCCC at the NSW All Schools Golf Championships in Batemans Bay. Ryan was off to a great start in the 54-hole Tournament, leading the way after two rounds with scores of 70 and 71. In the third round he birdied the first 2 holes before he struggled on a few holes to fade to finish sixth. A fantastic achievement for Ryan which saw him selected in the merit team for NSW. Congratulations Ryan, what a fantastic achievement.
CHARLI BUHAGIAR SELECTED FOR NSWCCC RUGBY LEAGUE
Congratulations also to Charli Buhagiar of Year 10 who has been selected in the Metropolitan Girls team to compete at the NSWCCC Rugby League Tournament in August. Well done Charli, we wish you all the best for the competition!
TYLER SPITERI SELECTED FOR NSW BASEBALL TEAM
Congratulations to Tyler Spiteri of Year 11 who competed at the NSW All Schools Baseball Championships last week. After hitting a homerun, he was selected for the NSW team. Unfortunately due to school sport Australia pathway being cancelled for this year, unfortunately he won't be able to represent NSW at Nationals. A great achievement, nonetheless.