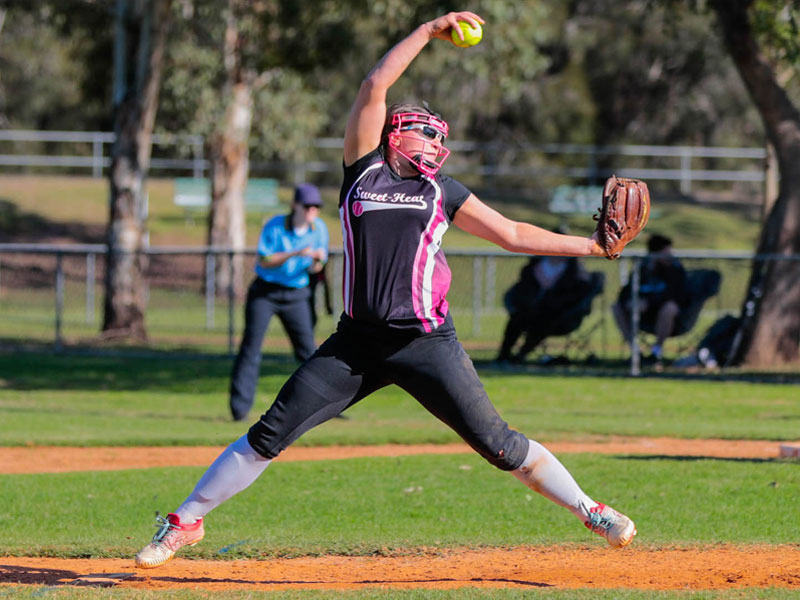 Charli Orsini, a standout 2022 pitcher/hitter from Australia who has played on the country's Jr. National Team, recently committed to Tennessee… even thought she's never been there!
How far will some people go to fulfill their dreams? For one talented Australian senior, she's about to go halfway around the world—literally–to play college softball. Charli Orsini, who lives right outside of Sydney near some of the most famous landmarks in the world, will soon be going to a university she's never been to… and playing for college coaches she's never met in person… and they've never seen her play in person, either!
Early Grad in the 2022 Class
That's the crazy but true COVID-impacted story of this talented Aussie pitcher who lives in Kellyville, which is only 20 minutes away from where the Sydney 2000 Olympics were held (Blacktown International Sports Park) and 30 minutes from Sydney, the capital city of New South Wales, famous for the Harbour Bridge and the Sydney Opera House.
She will have one leg up on her American counterparts as Charli will graduate earlier than her soon-to-be teammates in the Class of 2022.
"I am in my final year of school here in Australia and will sit my final exams in 37 days," she told Extra Inning Softball this week.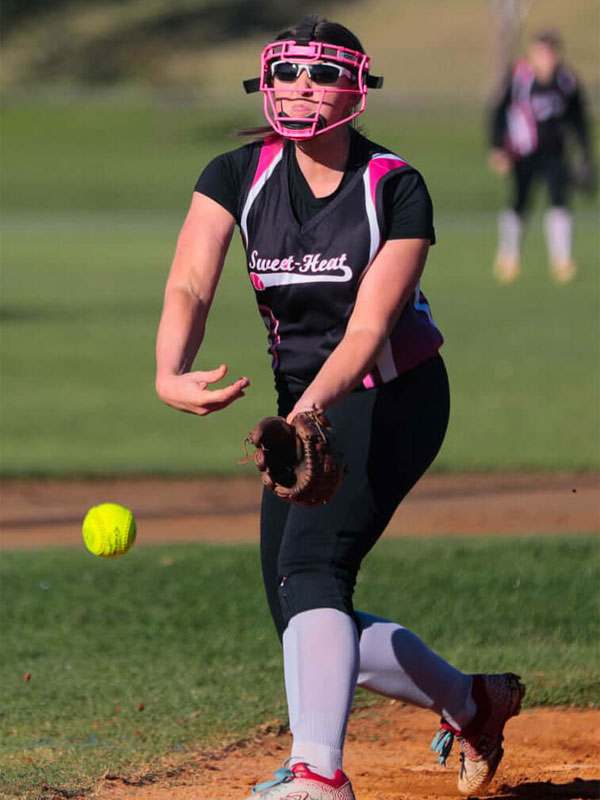 Charli is a right-handed pitcher who throws hard and also can hit well.
Due to stringent COVID-19 restrictions here in Australia, I have not returned to school for the past 14 weeks and have been working remotely—I even completed my final school exams from home and online. I will return to school at the end of October, only weeks before I complete my final exams in November.
Thought kept within the borders of Australia for the last year plus because of COVID, Charli's success in softball has become known to key people in the sport both at home and abroad.
Rising Star
She is currently ranked the best Aussie pitcher in her age group and has really blossomed over the last two years including being selected to be a member of the Australian Junior Aussie Spirit Team and a pitcher on the New South Wales 18U team that ended up repeating as Australian National Champions after going undefeated in 2019 and '20. Last year, in 34 innings pitched against elite competition, Charli compiled a 0.62 ERA and had 46 strikeouts.
This year, her continuing emergence was highlighted by her invitation to train at the Australian Olympic Training Camp in May and later to play in the Australian Softball Summer Slam Series.
Prior to COVID locking down the borders, Charli made her one and only trip to the United States in 2019 as she travelled to Mankato, Minnesota as a member of the Under 17's Aussie Diamonds team.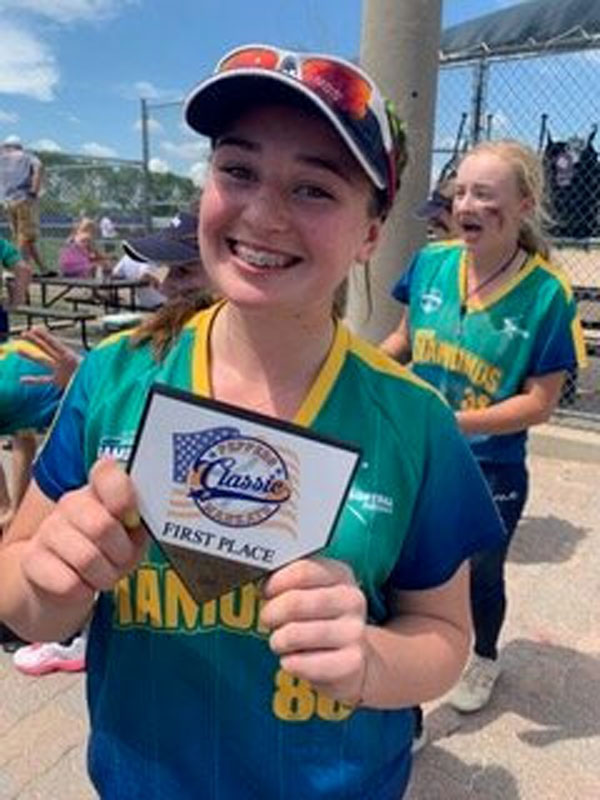 Charli in 2019 when her Aussie Diamond team won the Peppers Classic in Mankato, Minnesota.
The team was comprised of 30 players who were selected from the 2019 Australian National Championships and competed in the Peppers Carnival. Charli pitched in the final to win it all and in the series tossed 13.3 innings and had 19 strikeouts without giving up an earned run.
On that trip, about 18 hours plane flight from her homeland, the teenage got to hang out with members of the Aussie Peppers, the pro team in the NFP at the time, which was based in North Mankato, Minnesota.
"My trip to Mankato alongside the Aussie Peppers gave me great insight into the world of softball in the USA," the athlete recalls. "I visited the University of Minnesota campus and knew at this point that I wanted to go to college in the USA!"
Overcoming Obstacles
Complicated her softball dream was the fact that, once COVID hit, college coaches couldn't travel to Australia to see her and travel abroad was prohibited.
And not to mention that the time difference is usually about 14 hours so, for example, when it's 9 pm on the East Coast of the U.S., it's approaching noon in Sydney, making direct communications with coaches and recruit a bit tricky.
Another challenge: helping potential recruiters feel comfortable that the softball level Charli played at would be comparable to the level of competition found in American travel ball play.
For the past seven years, the talented pitcher/hitter has been a member of the Sweet Heat travel ball organization which won the Australian Club Championship in 2015, '16 and '17.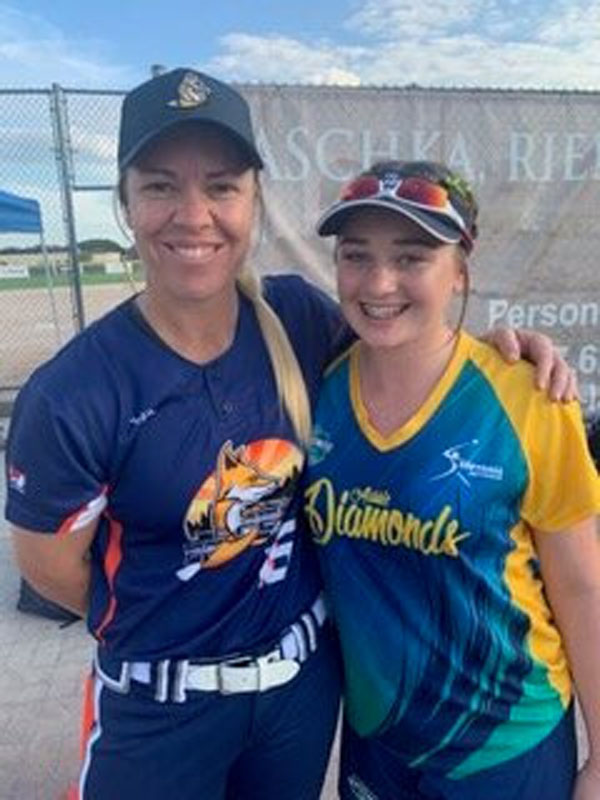 Charli (right) in 2019 with Stacy Porter, who played for the Aussie Peppers.
"I love playing with Sweet Heat as it feels like family," she says. "My mum and family friends coach me and I play with girls that I have played with since I first started playing softball. It feels like home."
Her Sweet Heat head coach, Mark Armstrong, has been around the game in Australia for so long that he coached Charli's mother, Lyneene, when she played softball at the age her daughter is now.
Of his latest accomplished athlete, he sees her being a rising star.
"Charli is a very well-developed young Aussie pitcher for her age and genuinely has five or six pitches that she can control well," he begins. "She can throw at around 65 mph plus at present and her drop, curve, rise and change-up have real breaking movement, while she has learned to throw a screwball-style pitch too. Charli can vary this range of pitches with some off-speed delivery also."
"With these tools," the coach adds, "Charli challenges the hitters at all levels from those her own age to the most experienced elite women's players here in Australia at present. She is also a very accomplished hitter and has the potential to hit the deep ball at any time, but also the ability to hit for high average and RBIs due to her sound overall hitting mechanics. Charlie is an alert and aggressive baserunner also."