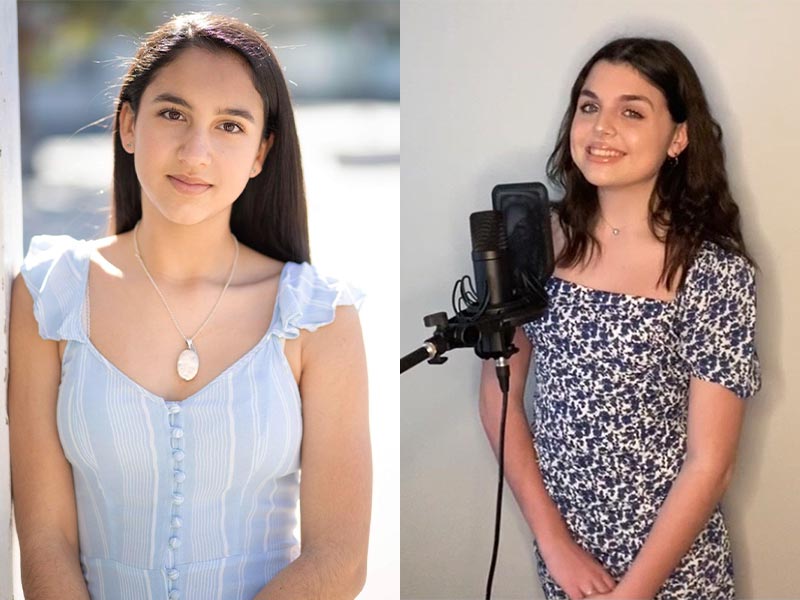 Emily Nasso & Genevieve Brouillard
Eleven talented drama students from Catholic Education Diocese of Parramatta's CAPTIVATE creative and performing arts program were awarded scholarships to the Australian Theatre for Young People's (ATYP) September/October 2021 online holiday programs.
Ranging from two to five days in length, the workshops included Audition Technique, Voice and Accents, Script Writing and a Drama School Taster.
Marian College Kenthurst students Emily Nasso (Year 10) and Genevieve Brouillard (Year 9) were two of the lucky scholarship recipients.
"This was my first ATYP course, so I wasn't sure what to expect, but I wound up having an amazing time with the Drama School Taster program," Emily said. "We did a voice and movement crash course and were able to work on a monologue that we got to perform to the class at the end of the final day."
Genevive agreed that her Audition Technique program was a very worthwhile experience saying "I couldn't be more thankful for this eye opening opportunity. It was such a nurturing and safe environment in which to express yourself. It was inspiring to learn from and get to know each individual student".
Emily and Genevive have been working with drama teachers Natasha Beaumont and Lucinda Armour at Marian College CAPTIVATE Drama Hub every Friday.
"All eleven students from across four schools who got the opportunity to work with the ATYP had a fantastic experience. They all told us that they were nervous at first but quickly settled in, built their skills and confidently performed great work," Lucinda said.
Claudene Shoesmith, the ATYP Workshop Coordinator, got in touch with me to say how impressed the tutors were with the CAPTIVATE scholarship students.
Emily said she was "so grateful to the ATYP for this incredible opportunity" and Genevive "just wanted to thank CAPTIVATE so much for this wonderful scholarship with the ATYP. I learnt so many useful new skills and techniques and it was amazing to meet like-minded people".
CAPTIVATE and the ATYP will move into an exciting new phase of their long-standing creative collaboration when the ATYP opens its new purpose-built theatre and rehearsal spaces in Walsh Bay in 2022.
---