In the Diocese of Parramatta students at all schools regularly engage in activities to support Catholic Mission with fundraising and awareness-raising initiatives.
Social Justice programs encourage students to take action beyond the classroom where injustice, inequity and inequality prevail.
Our Faith in Action program offers students the opportunity to give generously to those in society who need support. Throughout the school year, the College comes alive with generosity and compassion as students are encouraged to work closely with their local parish, community groups, support local charities and participate in outreach or immersion experiences for the benefit of the whole community and the student's personal development.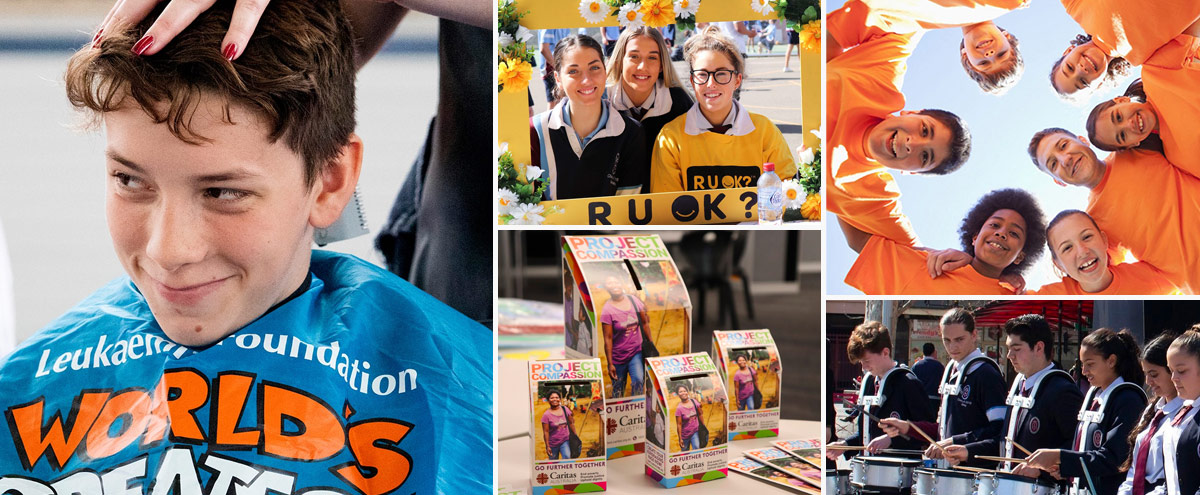 Marian students are encouraged to develop a 'Faith in Action' goal every year. Students are taken through the process of setting a SMARTER goal and given a range of options to choose from.
Faith in Action is reflected in the Letter of James which states:
What good is it, my brothers and sisters, if you say you have faith but do not have works? Can faith save you? If a brother or sister are naked and lacks daily food, and one of you says to them, "Go in peace; keep warm and eat your fill," and yet you do not supply their bodily needs, what is the good of that. So faith by itself, if it has no works, is dead. But someone will say: "You have faith and I have works" Show me your faith apart from your works, and I by my works, will show you my faith … You see a person is justified by works and not faith alone…..For just as the body without spirit is dead, so faith without works is also dead.
James 2: 14 – 18…24, 26
So, throughout every year, all students at Marian will be considering how they might put their faith into action.
Students may wish to choose from the following examples.
Catechists at Dural PS
Vinnies Van Volunteers
Readers and Writers
Sewing for children in Africa, South-East Asia and South America
Attending beading sessions to make bracelets for children overseas
Collecting items for the 'Share the Dignity' charity
Attending Social Justice workshops run by the Parramatta CSPD
Erecting Social Displays in the Parramatta Cathedral forecourt for student from other schools in the Diocese
Entering the Social Justice essay competition
Contributing to Bake sales to raise money for charity
Running Mother's Day stalls to raise money for charity
Attending the Australian Catholic Youth Festival
Attending World Youth Days
Attending the weekly Social Justice Club
Reading mentors
Breakfast Club volunteer
Maths tutor
Language tutor
Altar Server
Caritas fundraising for Project Compassion
Giving money to charity
Towels and toiletries for Talbot
World's Greatest Shave
Vinnies Christmas Appeal
Vinnies Winter Appeal
Donating hampers to Nursing home residents
Donating food to the Jesuit Refugee Service
Raising money for the Jesuit Refugee Service
Writing Christmas cards to Nursing home residents
Writing Christmas cards to go with the Vinnies hampers
Writing letters to survivors of bushfires
Raising money for the Vinnies Bushfire Appeal
Involvement in Prayer over PA
Writing prayers for Marian Morning Prayer
Liturgy Drama
Liturgy Organisation
Liturgy Musician
Liturgy Tech Crew
Liturgy Reading
Liturgy Multimedia Presentation
Assembly Musician
Assembly Drama
Open Night Volunteer
Peer Support Leader
Marian Year 7 Induction Volunteer
Class Mass Reader
Class Mass Altar Server
Friday Rosary in the Prayer Room
Undertake to attend Mass on Sundays
Shrove Tuesday Fundraiser for Caritas
Busking for Vinnies
Parents are asked to monitor their son's or daughters' 'Faith in Action' to help and encourage them to achieve them throughout the year.
LEARN MORE