Marian Catholic College has a strong reputation in the sporting arena.
Sport at Marian Catholic College is an important part of a student's physical and social development and students are offered a wide range of activities to participate in from a competitive level to refereeing or umpiring and coaching.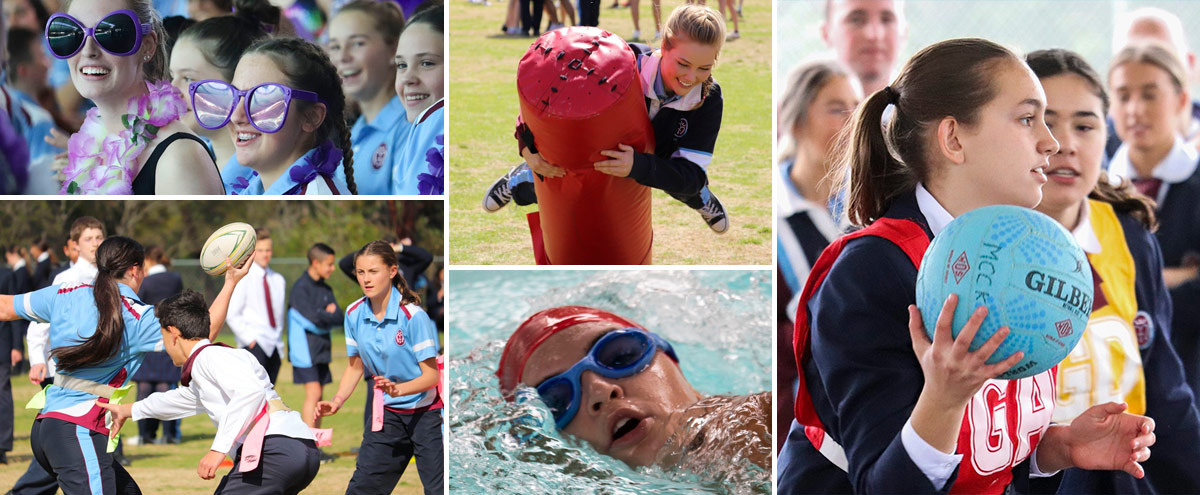 Internal Sport
Held on Fridays once a fortnight, on day 5 for Years 7-10. Staff who supervise sport at Marian College co-ordinate a series of internal competitions with students divided into mixed ability teams. Each sport is presented with awards at the conclusion of their competition each term. These include awards for the winning team, best and fairest, excellent participation and most improved.
Some sports activities that our students participate in include:
Tennis
Indoor Rock Climbing
Swimming
Futsal
Flip Out
Creative Arts
Oz Tag/Ultimate Frisbee
Wheelchair Basketball
Tenpin Bowling
Basketball
NFL Flag
Peak Pursuits
All students participate in a different sport each term. Sport will often be held at external venues to ensure students have access to a variety of enjoyable sports and to participate in activities they may not normally do in their PD/H/PE program.
External Sports
Marian Catholic College has a strong reputation in the sporting arena. In addition to PDHPE Curriculum and the Year 7-10 Internal Sport Programme, students have the opportunity to represent the College at both the Hills Zone Sports Association (HZSA) and the Parramatta Diocese Secondary Schools Sport Council (PDSSSC). Students can also be selected to represent the PDSSSC at the New South Wales Combined Catholic Colleges (NSWCCC) and New South Wales All Schools Levels.
Sports include:
Athletics
Australian Football League (AFL)
Baseball
Basketball
Cricket (Boys)
Cricket (Girls)
Cross Country
Diving
Football (Soccer-Boys)
Football (Soccer-Girls)
Hockey
Rugby League
Rugby Union
Softball
Swimming
Tennis
Touch Football
Triathlon
Volleyball
More information on the PDSSSC/ NSWCCC can be viewed at the following websites
Representative Sport NSWCCC website
Hills Zone Sports Association (HZSA Sports)
The Hills Zone Sports Association provides a pathway to AICES, CIS and state representation for secondary students of member schools. This includes the major carnivals of swimming, cross country and athletics as well as many other representative sports. In addition, championship days and summer/winter competitions across a variety of sports provide students with the opportunity to play weekly competitive sport.
Sports include:
AFL
Basketball
Indoor Cricket
Football
Futsal
League Tag
Netball
Rugby Union
Tennis
Touch Football
Triathlon
Volleyball